We went to the temple as a zone. It was a REALLY long ride.
So tomorrow I will get a new area. We got ``the call`` yesterday that I had changes and should pack up my life into my 2 suitcases. I`ll be sure to share all the details next week. It has been a great time here in Rio Bravo. There are a lot of people here that I am really going to miss.
I mentioned that I was going to take out the step counter and see just how far we walked in one day. At the end of the day we had walked a little over 12 miles. We had planned a bit more, but some nice fellow gave us a ride in his bus for the longest stretch (about 4 miles). Mototaxis (a modified motorcycle with seats in the back) are now prohibited for safety reasons, so it is going to be a whole lot more walking from now on...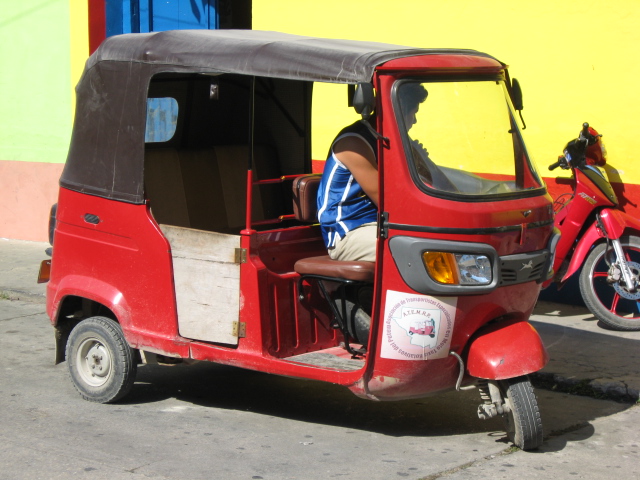 About the most exciting thing that I remember happening this week was when my companion noticed that a woman we talked to in the street had green eyes. It isn`t a very common thing around here. Anyways, I`m sure next weeks email will be a lot more exciting.
We knocked a guys door at about 8:30pm the other day and he let us in to teach him. We found out that, at the age of only 65, he already had several great grandchildren... WOW! Moreover, 15 years ago, some Mormon missionaries had given him a copy of the Book of Mormon, which (apart from slightly yellowed pages for the age of the book) was in almost new condition. He had taken great care of it. So we taught him about what the book was, as he had the misconception that Joseph Smith had written it, and that it just talked about Joseph Smith. He was going to come to church yesterday with his whole family, but he forgot what time it started at.
L
Read the Book of Mormon guys, it is an excellent book. Anyone that reads it will get closer to Jesus Christ.
As far as what I think about planning for the summer trips…What I think is that I haven`t the slightest idea what I am going to be doing! I haven`t been back home for like 2 years! You can probably assume that I will come with you guys for the whole trip though. But if not, there are about 2 months between when I get back and when we would leave, so plans might change. Actually, it would be a good chance for me to swing by to visit Elder Vallejos in SLC too. Who knows... Go ahead and plan on my going the whole time.
Thanks for all of the interest that you have taken in furthering my education and helping with the applications and stuff, Mom! Very shortly all of my goals and visions are going to change drastically! It is weird being a grown up... Being a kid is better...
Love you lots! Thanks for the update!
Elder Collin Rice